What can MSPs gain from linear growth and recurring revenue
We've reached it, the critical stage between cloud growth and cloud maturity. And there's no need to deny that with cloud maturity come great opportunities. Just like Uncle Ben said, right? But more seriously, as a Managed Service Provider (MSP), how can you be sure that adding the cloud to your organization now is right? Did you at all consider the cloud as a more profitable model for your business in 2015?
Understanding recurring revenues
Try to think of an industry that generates billions of dollars and that is based on recurring revenues. Hint: most of us depend – and are highly addicted – to its services. We are so hooked that we're willing to blindly pay high fees each and every month. And that's just to access the service. Wondering what industry I'm talking about? Mobile network companies. Yes, cellphone companies are very profitable companies. May I kindly remind you of the billing model they're using to bill us? The recurring revenues billing model.
Most MSPs are used to the traditional services model, which can be very lucrative when sales are booming, yet it can also be unforgiving if sales are not performing so well.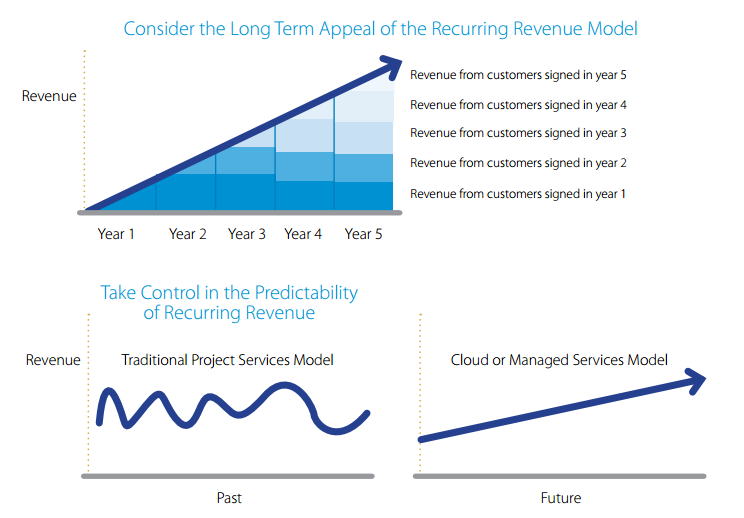 The beauty of the recurring revenue model resides in its long term profitability. The challenge for MSPs? Manage the rate of churn and keep down to a minimum the number of lost customers. An achievement that should not be too hard to accomplish if you're offering great customer support.
The model's fairly simple, each customer generates XYZ amount of profit per month. The more customers are on board, the higher profits are. These 3 charts from the IDC eBook "Successful Cloud Partners 2.0: What IT Solution Providers Need to Know to Build Profitable Cloud Practices" offer a good visual comparison between the traditional services model and the Cloud/Managed services model. You can notice that the recurring revenue model offers more predictability in terms of incoming revenues. Just imagine if you can't close enough sales during a specific period and don't reach the predicted profits. Well at least with recurring revenues, you have a safety net and money is still piling up in your bank account.
The eternal quest of a common denominator with customers
Adding the cloud to your offering does not mean you should stop selling on-premises solutions altogether. On the contrary! Offering both gives your end-customers the power of choice. Some are still scared by the cloud, therefore they might choose to stick with an on-prem solution. Others may choose to move half of their solutions to the cloud while keeping the rest in-house.
At the end of the day, you want to know the advantages selling the cloud has for you. Especially in a competitive market like the IT industry where you must stay ahead of the game.
We're all customers. And as customers, we usually opt for products that are intuitive (just think about the popularity of tablets) and affordable. Basically we want as much as we can for our buck, and we won't compromise quality. And we want it to be as simple as possible.
The quadrant below explains quite well customer behavior. Most of us fall in the top left category. And very few of us want to fall in the bottom right category. Why? Because cheap and easy is the way to go. If you run a business, your ultimate goal is to make profits. And to make profits, you want to cut expenses.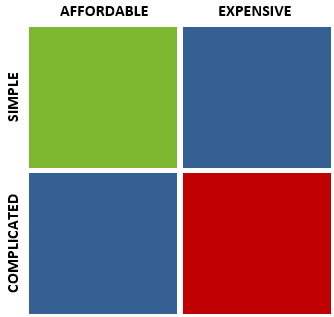 How does the cloud fit in there? Well it's affordable, especially for SMBs or growing companies, and it's simple. How? Let's say your clients already have in-house servers, which have been running for a few years. They probably have IT tech(s) in their team or are very dependable on their service provider. In either situation, this results in high costs and complicated in-house deployments. Plus, the servers need frequent maintenance and will most likely be obsolete in a couple years.
The cloud, on the other hand, grants the access to up-to-date software and services. Migration is seamless and easy: it's taken care for by professionals. Plus, there is no need to worry about maintaining the hardware, it's all taken care of. No more insomnia worrying about downtime, cooling of hardware, power outages, etc. Furthermore with the cloud resources are unlimited. You can sell as much as the customer asks for without having to worry about employee turnover and attrition.
Success in the cloud
The key is choosing the right provider. That's it. There are many well-established companies selling the cloud right now. What's the most important feature to take into account when you choose your provider? Reliability. When choosing a reliable provider, you offer peace of mind to yourself and your customers.
With SherWeb what you can expect is 24/7 support, well-trained and experienced technicians, North American Tier 3+ certified datacenters which are fully redundant. Paired with the best-in-class hosted solutions. See for yourself how adding the cloud will benefit your business as a MSP!
The post What can MSPs gain from linear growth and recurring revenue appeared first on SherWeb.