Beta Release of Smooth Streaming Now Available
It is my pleasure to announce that the Smooth Streaming Beta is now available. Get it here for x86, x64, or using the Web Platform Installer (see below for details). In case you're hearing about Smooth Streaming for the first time here... the technology adapts the bit rate of the content in throughout playback to provide your viewers with an experience that starts up instantly, seeks instantly, and delivers the best quality that network and CPU conditions will allow for any point in time. It does this while communicating using fully cacheable requests and responses, so that the power of massive HTTP caching infrastructures can provide your viewers with the best Quality of Service. Check out the extension page, the initial post, or Smooth HD to learn more.
To make it easier to get started with Smooth Streaming, we will be releasing a package of sample content imminently. This package contains a test client that simulates changes in network conditions, and shows the history of bit rate and frame rate changes to make it easy to visualize how the experience evolves over time: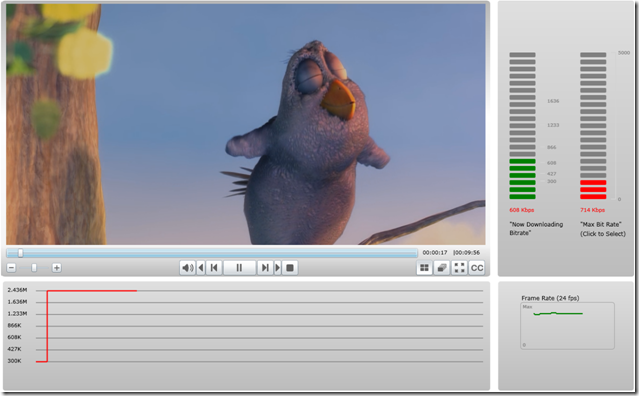 You can also deploy any content created for IIS Smooth Streaming using Expression Encoder 2 Service Pack 1 and start streaming. There are several walkthroughs available to make it easy to get started with the functionality in this release:
We'd love to hear your feedback once you've had a chance to try the release first-hand: use this link to tell us what you think. On behalf of the entire Smooth Streaming team, we're really excited to make this Beta broadly available, and look forward to your feedback!
--John
The Web Platform Installer is a great new way to get the web server (including your favorite IIS Extensions), database, and application framework in one simple operation. To get Smooth Streaming, be sure to select either the "Complete" install, or check "IIS Smooth Streaming Beta" if selecting "Your Choice":