First IT Pro Focused IIS7 Book Hits Market: How to Cheat at IIS7
One of the moonlighting activities I have been doing is driving the release of the first IT Pro (sysadmin, etc.) IIS7 book on the market. This book started way back when we released Windows Vista & IIS7 and focuses heavily on giving many of you a head start on understanding the huge changes in IIS7. I was the technical editor for this book and I did everything I possibly could to ensure that the book was 100% technically accurate though as is expected some things might just fall through the cracks. In either event, you should certainly pick up a copy if you would like to learn about the IIS7 setup, brand new configuration core server, new administration tools, as well as diagnostics.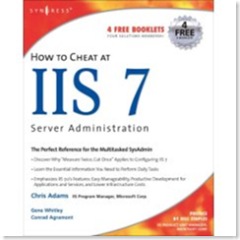 With a preface by Bill Staples, Product Unit Manager, this book packs 300+ pages of goodness about IIS7. You will not dive deep into the internals of IIS7 but you will quickly close the delta between not knowing anything about IIS7 & knowing a lot! Get started using this product today with insight from me, Gene, Conrad, and many others.
Look at the Changes to IIS7
Compare IIS 7.0 to 6.0, take a look at its new core server, review its command-console utility, and see how to use Request Tracing
Review the Important IIS 7.0 Modules
See how modules perform specific functions and how they allow the IIS footprint of IIS 7.0 to be small while providing the required functionality
Understand IIS Development Advantages
IIS 7.0 offers a new landscape for developers - see how it provides access to early pipeline events, such as authenticating requests
Enable Managed Code
Managed code running under integrated mode provides direct access to the unified pipeline
Enable Delegated Administration
Learn how delegation is a powerful management tool and see how delegating administrative capabilities is accomplished in ApplicationHost.config
Accomplish Tasks Using IIS Manager
IIS Manager offers easy access to all relevant features, and creating Web sites and virtual directories is simple & intuitive
Use IIS 7.0's Custom Detailed Errors
Unlike previous versions, IIS 7.0 includes Custom Detailed Errors that offer administrators console access to the most detailed error messages
Extend IIS 7.0's Tracing
The ability for a developer who developers custom modules using IIS 7.0's APIs to also push his module's errors into the same error log used by IIS is arguably the most powerful feature in all of IIS 7.0
NOTE: This book was written with Windows Vista functionality in mind. IIS 7.0 was well along the way to fully baked minus some server-centric features like centralized configuration, IIS Manager delegation changes, and a other changes. For a detailed understanding of these changes, please read What's New in IIS7 in Beta 3 on IIS.NET.
A Special Thanks to...
Purchase