IIS SEO Toolkit 1.0 Final Release Available Today
Today, IIS launched the IIS SEO Toolkit 1.0, a free, fully supported extension to IIS7 that makes it easy for you to build and maintain Web sites optimized for search engines and site quality. In a world where thousands of new Web sites appear on the Internet every month, it is more important than ever to provide a Web destination that is easily discoverable by search engines. Users have a tremendous amount of choice on Web sites today, and poor site quality, like slow response time and broken links, will end up costing you site visitors and visits. Developers and site administrators can download the IIS SEO Toolkit today using Web Platform Installer or directly from the Microsoft Download Center, and start optimizing any Web sites on Windows (ASP.NET, HTML, ASP, or PHP).
The IIS SEO Toolkit installs and runs on IIS 7.x, which is the Microsoft Web server shipped as part of Windows Server 2008, Windows Server 2008 R2, Windows Vista and Windows 7.
If you are a site administrator, you will love using the IIS SEO toolkit because you don't have to write code to improve your Web site's "searchability" by Bing, Google and other Web sites, and you can directly impact the quality of your Web site. You can find and fix-up site issues by running reports that:
analyze everything from broken links to load times on Web pages
discover common browsing paths through your Web site taken by customers
duplicate files and other issues with site quality
If you are a developer, you will be interested in the IIS SEO toolkit because it can simplify your development process for new Web sites and help you maintain existing sites. You can use the same Web server administration console that you use for managing your site to:
run reports to report on broken links across your Web site
control robots crawling behavior on your site
build custom site analysis reports for site administrators
add and edit sitemaps and sitemap indices
One of the most powerful features in the IIS SEO toolkit is the built-in site analyzer that lets you run detailed reports on web sites that are hosted on external Web sites or your localhost environment.
The "dashboard" for the Site Analysis Report gives you a summary of violations and other built-in reports like pages with the most violations, or sort by violation categories or levels.
If you want to take a different "view" of your Web site, you can look at your site by content, performance or links. The query builder that comes with the Site Analysis tool lets you set up custom queries to get a detailed view of the content you care about. In this example below, you can see all the links to images on your site.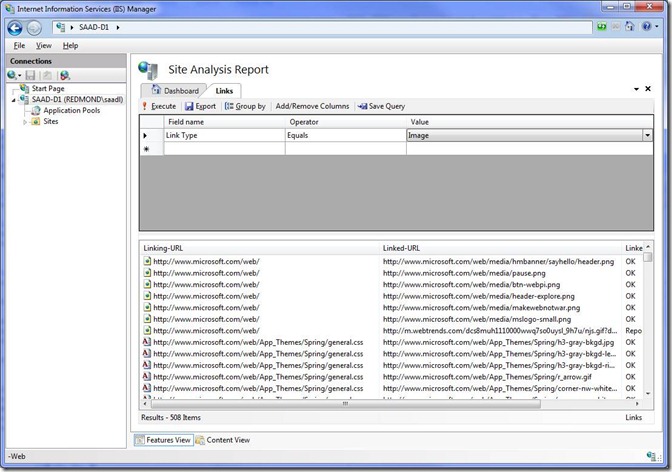 The IIS SEO toolkit is part of the IIS7 mission to provide the best Web application hosting platform for developers and administrators. We hope you enjoy using this extension and look forward to hearing your suggestions in our SEO Toolkit forum!
For more information, check out these sources: