Search Engine Optimization… What about Social Media Optimization?
If getting your web site discovered by the masses is your goal, employing Search Engine Optimization (SEO) techniques can be the key. However, if you want to reach a broader base of visitors who are more engaged with your content, optimizing your site for interaction with social networks like Facebook and Twitter, Social Media Optimization (SMO), can be even more significant.
Hundreds of millions of people worldwide are active participants in social media sites and thousands more are signing up every day. A recent Nielsen Study found that the total time being spent by Facebook users increased by 700% over a twelve month period from April 2008 to April 2009. During the same time period the amount of time users spent on Twitter increased by a whopping 3,712%. This phenomenal growth in the time being spent on social networking on the Web is an indication of not only the popularity of social networking sites with the masses but also a measure of their "stickiness".
The best way to start optimizing for social media networks is to develop a presence on one or more social networks. Building mutually beneficial relationships with a specific audience is a key to social networking. Twitter and Facebook are prime examples of social media that offer fantastic opportunities to market your Web site and connect with your peers, special interest groups, and customers. Tweeting is an effective means of sharing information and gathering feedback, and most social networking sites provide assistance for building personal home pages or fan pages to grow awareness of your brand. Building a strong following on Twitter and/or a large fan base on Facebook is a force that can be leveraged to drive targeted traffic to your site.
If you are actively tweeting or posting new content on social networking sites you can add widgets to your web site that make it easy for visitors to stay up to date with your latest tweets and posts. Adding these widgets to your site makes social networkers aware of your presence on social media sites and gives them one-click option to follow your tweets or become a fan.
"Fan-Box" "Follow-Me" Widgets
Many social networking sites also have platforms for integrating their technologies and bringing the power of their social network to your Web site. For example Facebook Connect makes it possible to add widgets to your site so users can log into their Facebook accounts safely and securely allowing information to flow freely between the sites in a trusted environment. This means your viewers can share content from your site with their friends on Facebook and let their Facebook friends interact directly with the content on your site.
Facebook Connect Widget
Facebook, Twitter, Digg, LinkedIn, MySpace, Google Buzz and others have widgets that enable one-click sharing of articles, pictures, videos, and applications from your site with social networks. You can even hook up counters to track the number of times your content gets passed along and display the count to give your visitors an idea of the relative importance others have placed on the content.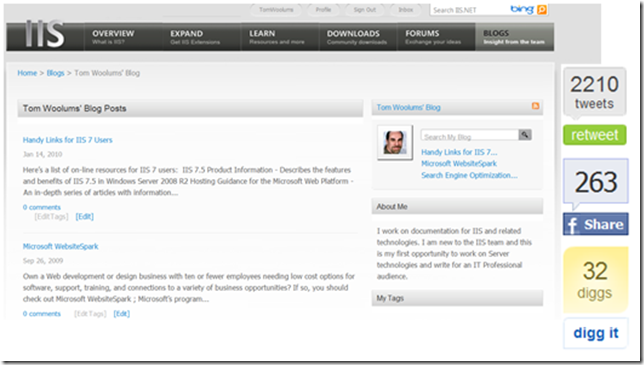 Website Example with "Share This" Widgets
There are a number of other technologies and lots of great examples of how social media is being used to drive traffic to Web sites. Of course publishing compelling content and applications that make people want to share it with their friends is the best way to drive traffic to and from your site and social networks. Offering incentives like valuable coupons or contests with prizes is a very effective method of getting people to start sharing the content on your site with others; while constant self-promotion and useless spam is the quickest way to lose your fans and followers.
Making sure your site is discoverable is a great way to grow casual traffic but if you want people with specific interests who are genuinely interested in your content to visit your site, SMO can be more important than SEO.
You can learn a lot about social networks and get ideas for incorporating social networking technology into your site at Mashable – The Social Media Guide.
You can learn more about Facebook widgets at Facebook Widgets – Share anywhere on the web.