Microsoft PDC 2010 – Streaming Now using IIS Smooth Streaming

Today is the start of the Microsoft Professional Developer Conference (PDC) 2010, and you can view it now – live or on-demand – at www.microsoftpdc.com. Powering the streaming at PDC is IIS Smooth Streaming, part of IIS Media Services.
As usual, there will be plenty of big announcements at PDC, including new information about Windows Phone 7 and Windows Azure. Two announcements, made by Bob Muglia during the keynote (see the video or the transcript), affect IIS Media Services:
Windows Azure will soon support a VM role so you can run a full Windows Server 2008 R2 image
Full IIS and IIS Smooth Streaming support will soon be enabled natively on Azure!
With this year's event, we have taken the media experience up another level. Not only are we providing live Smooth Streaming of the keynotes, but also concurrent live streaming of all sessions. All of this content will be available for on-demand viewing after the live event ends.
The player experience, built on Silverlight Media Framework 2.0 and hosted on Windows Azure, has some great new functionality. As you can see from the screenshot below, there are a number of cool and useful features built in, including:
Swappable large and small video feeds, one for the presenter, and one for the on-screen content (slides and demonstrations – shown here in the upper right)
A live Twitter feed, and a Q&A tab for the PDC sessions
The ability to copy or Tweet a link to the current session
Download Materials available for some sessions
Related Content links
Live Closed Captions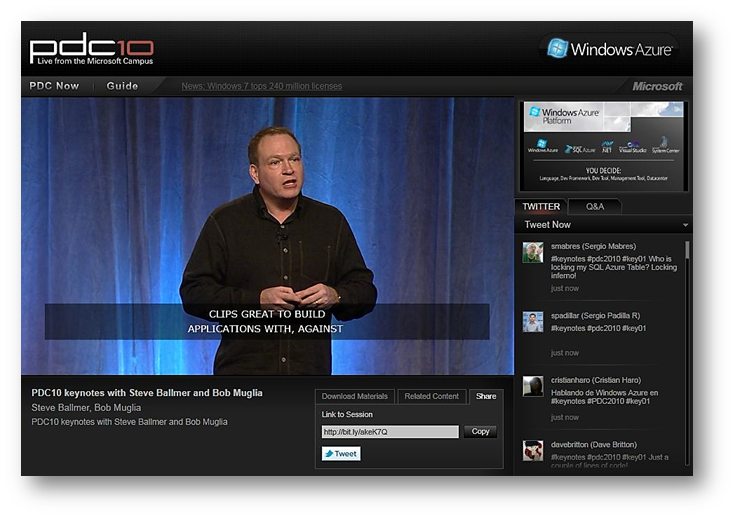 When you hover your mouse over the player, you also see a two-row overlay set of standard and advanced player controls. From left to right, top to bottom, these include:
Clickable Seek bar
Current play position and estimated video duration
A "Live" button, so if you have paused or replayed some content, you can rejoin the live broadcast
A Bookmark button, allowing you to denote key events in the video and then share the URL to point in the video with others
Volume control
Video quality meter
The "Like" button and "Like" counter
15-second instant replay
Rewind, Pause, and Fast Forward controls (full live DVR!)
Closed Captioning toggle
Audio menu – some PDC sessions, such as the keynotes, are available with live audio in five languages
Full Screen – which overlays the secondary video over the main window as Picture-in-Picture

Especially useful for viewing any of the live or on-demand sessions is the Guide tab. This provides a full schedule of PDC sessions, organized by channels, and lets you access more information and video feeds (during or after the event) for each item.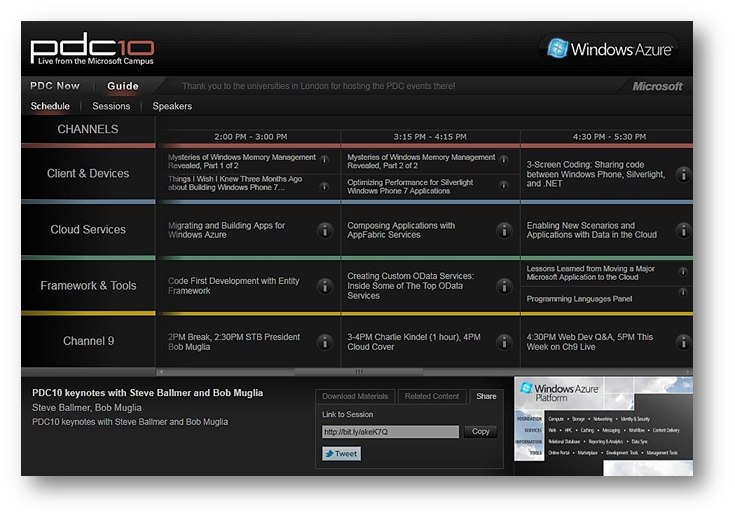 We hope you enjoy participating in PDC through this Silverlight + IIS Smooth Streaming experience!
-Chris